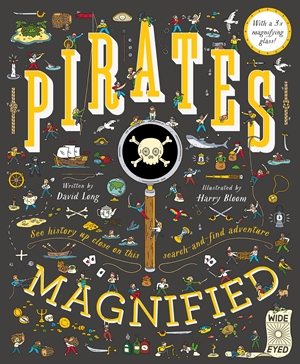 Pirates Magnified
written by David Long; illustrated by Harry Bloom
2017 (Wide Eyed Editions0
Source: Review copy provided by the publisher)
Not only were pirates some of history's toughest adventurers-they were also some of the most skillful.
Tuesday (September 19th) is Talk Like a Pirate Day. It's not enough to say a few words. You need to have the background knowledge to really be convincing. Fortunately,
Pirates Magnified
, a mashup of informational text and search and find, will give you the info you need to go beyond a mere "Shiver me timbers." Although that's covered too with an excellent two page spread in the back with pirate rules, slang, terms, and ship vocabulary.
The first four two page spreads of the book feature background information about pirate life. That information takes several forms. There are two or three paragraphs of interesting text. In
Merchants On the High Seas
, the text explains that there were many items beyond gold and silver that were valuable. For example, a small bag of spices from Indonesia could bring great riches. The star of the spread is the search and find. Each is a mural of pirates in action. Accompanying the large illustration is a
10 Things to Spot
infographic with small figures that appear in the mural and a sentence or two of information. You will be looking for jewels, but other important items like salt fish. A pirate's gotta eat! To make it easier to find the figures, you receive a magnifying glass to spot them. Other text boxes with even more facts also appear.
After pirate life, there are ten biographies of famous pirates. Some familiar, like Blackbeard and William Kidd, but others that may not be as familiar to you. Did you know there was a Spanish pirate like Robin Hood who stole from the rich and gave to the poor? His name was Amaro Pargo and he also sometimes used tricks instead of violence to board ships. There were also pirates on American rivers!
Two more spreads highlight seafaring in a storm and treasure hunters. A hilarious and informative Rogues Gallery shines a spotlight on pirates who didn't make it into the spreads but were infamous nonetheless. Finally, more search and find fun comes with many extra items to spot as you review the previous spreads.
With a combination of fun and loads of pirate information,
Pirates Magnified
is the perfect book for land lubbers like me.