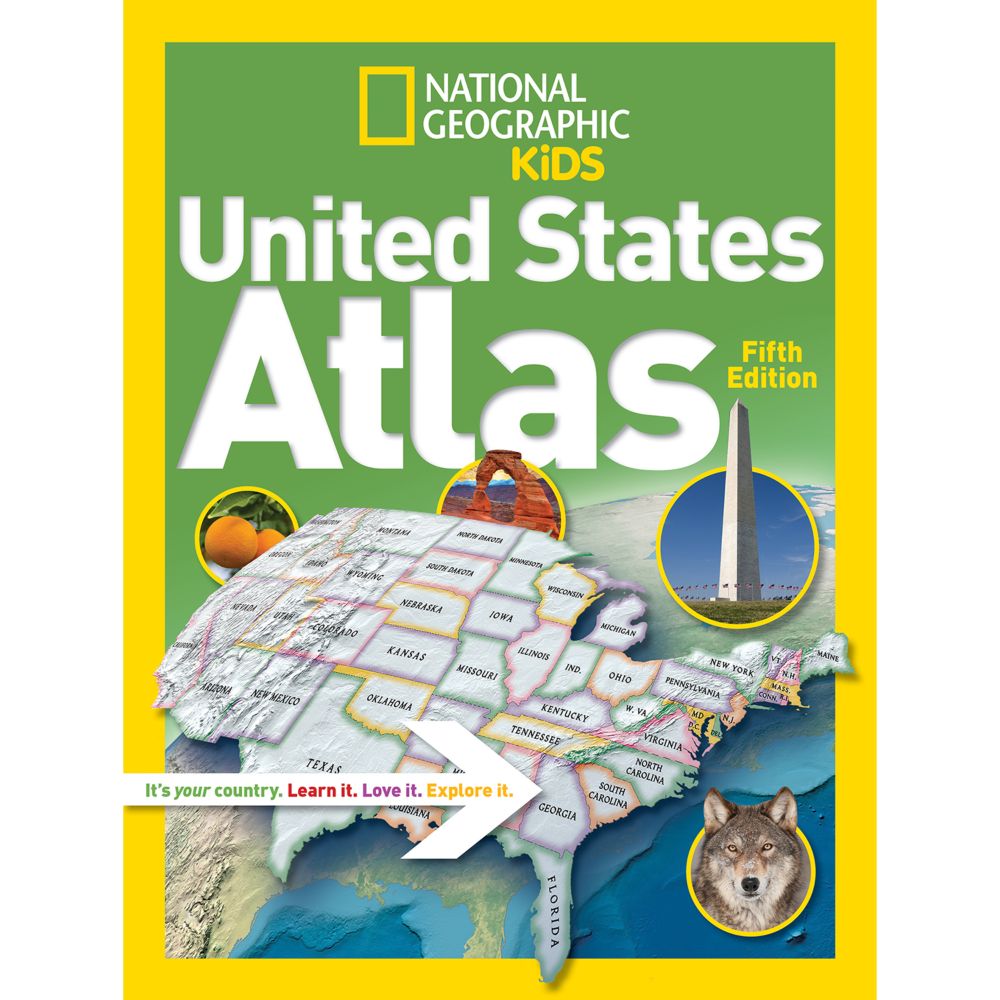 United States Atlas - 5th Edition
2017 (National Geographic Kids)
Source: Review copy provided by the publisher
Stretching from the Atlantic Ocean in the east to the Pacific in the west, the United States is the third largest country in area in the world.
Google this search term - "geographic awareness statistics". What you're going to find is not very positive. So now we know that students need to increase their knowledge of geography. How about providing them with a great resource? The newest edition of the National Geographic Kids U.S. Atlas is just the thing. It starts with looking at the country as a whole. There is a physical map that would be terrific for studying biomes. A climate zone map provides more information about the natural environment of the U.S. Curious about natural disasters? There's a map for that. You can track where earthquakes and tornadoes are prevalent. After the physical maps are a set of political maps that will help readers learn about state capitals, population density, migration patterns, and energy use. Planning a visit to Washington D.C.? In this atlas is a grid map that will help you locate major points of interest in our nation's capital. All of this is just the appetizer. The main course of this atlas are the regions sections. Information about all fifty states are contained in five regions (Northeast, Southeast, Midwest, Southwest, and West). Each section starts with an overview table that lists physical and political data about the region. Largest state in the Southeast? Florida with over 85,000 square miles of area. Following the intro table is a physical and a political map of the region and a two page narrative overview with great photographs and plenty of data. Walking down the aisle next are the two page spreads that feature each state in the region. On the left page is a table called
The Basics
will give you the lowdown on the state. This page also has a paragraph narrative that provides a brief history of the state. Over on the right side of the spread is a wonderful product map that gives a ton of details about a state's economy. Not to be left out, the atlas also has a section about the fourteen territories of the United States. Back matter includes internet resources, a page of national facts and figures, and a glossary.
This atlas is a great deal for the price. Students will be able to work on how to read different maps and gain historical knowledge too. It's an eye-catching package with photographs and fun facts galore.