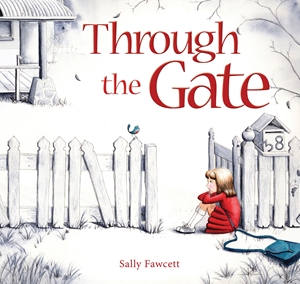 Through the Gate
written and illustrated by Sally Fawcett
2017 (EK Books)
Source: Review copy provided by the publisher
On Friday I stopped at our gate.
I gazed at the old house ahead.
Something was different.
A young girl stops outside the fence of her new home. She sees all the flaws of the house. A drooping roof and peeling paint. Not only does the house seem broken, but her outlook on her new life as well. Everything has changed for her. As the days go by, she "plods" to school and back home. One week after moving, she notices something different about her new home. Another week goes by with slow walking to school and back. At the end of the week, again the new house looks a little bit different and the scenery is not as dark. Now, the girl's pace picks up a little and she finds things in her life to be a bit brighter. Soon, she's making new friends in the neighborhood. A classmate to walk with. A puppy to give a belly rub. And a plum tree is blooming in her yard. In no time, everything is fresh and new. Including the smile on her face.
I really like how Sally Fawcett uses shading and colors to get readers to think about mood. Through viewing the illustrations, readers can talk about changes in the main character and how setting influences a story.
Through the Gate
is also a good book to share to prepare your class for accepting a new classmate. Moving to a new school is scary and books like this can make the transition easier for a new student.