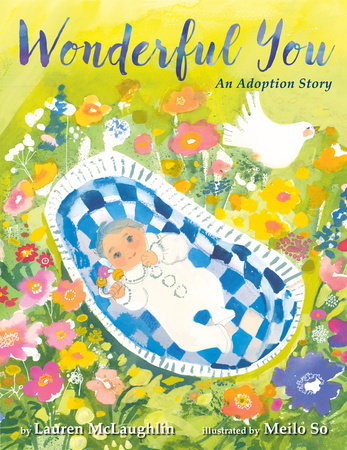 Wonderful You
written by Lauren McLaughlin; illustrated by Meilo So
2017 (Random House)
Source: Review copy provided by the publisher
The lady in blue looked us over some more.
She liked what she saw, but she had to be sure.
The lady in blue is looking far and wide. Carrying an unborn child, she is looking for a home. A home that will take in her daughter. A home that will love her Wonderful You. From the skies, she surveys the coastline while sitting in the curve of the moon. She sees a home in the dunes. A couple waits anxiously. They have a crib, a teddy bear, and an abundance of love. After securing a promise to love Wonderful You morning and night, the lady in blue hands off the child and travels peacefully back to her home on the wings of a bird. The new family, along with the teddy named Boo, enjoy life together as Wonderful You grows up. They ride bikes and swing high in the sky. Birthdays are celebrated and snowmen are built. Watching from afar, with a smile on her face, is the lady in blue.
Wonderful You
exudes the hope and love that you wish for families. Told in lyrical rhymes and illustrated in beautiful colors like a dream, you sense both textually and visually the adoration of all of the parents involved. I've read a couple of reviews that talked about this book being overly sweet, but that's looking through the eyes of an adult. PreK - 2nd grade students will see it differently and love it. Have you ever watched a six or seven year old when they are near a baby?
Wonderful You
is a precious way to open a discussion about adoption.