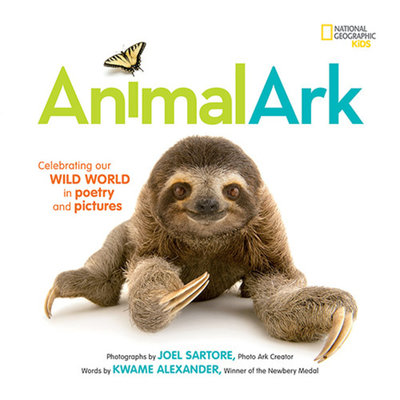 Animal Ark
words by Kwame Alexander; photographs by Joel Sartore
2017 (National Geographic Kids)
Source: Review copy provided by the publisher
Chorus of creatures
Singing our names
See what we can save - together
National Geographic and photographer Joel Sartore have undertaken an epic project
called Photo Ark
. He is visiting zoos from around the world to take photographs of all 12,000 captive animal species. Hopefully, after visiting the Photo Ark, people will be motivated to take action to help endangered animals. What if you wanted to add text to further energize this effort? You team up with Kwame Alexander and create a book called
Animal Ark
. The book opens with a gatefold that features over two dozen animals including a koala, a pangolin, and a seahorse photographed against black and white backgrounds. Two more similar gatefolds later appear in the book. Full page photographs, accompanied by haiku woven throughout, follow the gatefolds. The artwork and text work together to connect the reader emotionally to these animals. Seeing them in close-up fashion and reading the poetry drives home the point of our species needing to do something to preserve those who are near extinction. When you see a photograph of a lemur, curled up in a ball, with the words
embracing wonder
above its head, you understand that we have a responsibility to help. Near the end of the book, a beautiful Malayan tiger is spotlighted in a two page spread with this powerful haiku accompanying it:
Grandfather of the hunt
Fierce and Fast
And favored, forever?
That last line is haunting and will hopefully spur readers. The back matter is similarly persuasive with essays from Kwame Alexander and Joel Sartore. Also included are thumbnails of all of the animals featured in
Animal Ark
with an
IUCN listing
that categorizes according to geography and conservation status.
Definitely include
Animal Ark
in your study of poetry. Its combination of persuasive text and gorgeous photographs makes it a terrific book to share with your class.