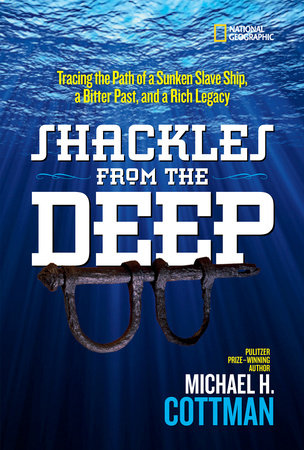 Shackles From the Deep
written by Michael H. Cottman
2017 (National Geographic)
Source: Review copy provided by the publisher
In some small way, I have always believed my spirit-and the spirits of all African Americans-is an everlasting part of the continent. Our ancestors endured the worst possible fates imaginable-and we survived.
In July 1972, renowned underwater treasure hunter Moe Molinar was diving in the Gulf of Mexico. He was looking for a sunken Spanish galleon that contained treasure. What he found instead were shackles that came from a slave ship
which had wrecked almost 300 years earlier. The shackles were stored in a laboratory where they would sit for another ten years. Marine archaeologist David Moore, not wanting these historical relics to be forgotten, headed a team of divers in 1983 to find out more about the ship. The team found a bronze bell that gave a name to what had been only known as the English Wreck. Moore and company had found the bell from the
Henrietta Marie
. Forward to 1992 where award-winning journalist Michael H. Cottman was attending a conference for the National Association of Black Scuba Divers. He met a prominent marine biologist and underwater explorer, Dr. Jose "Doc" Jones. Dr. Jones tells him of his desire to lay an underwater memorial at the site of the
Henrietta Marie
. What follows is a riveting retelling of Cottman's thoroughly personal journey of over ten years to find out as much as he can about the
Henrietta Marie
and about those who contributed to the enslaving of his ancestors. He traveled to England, the Caribbean, western Africa and other sites to piece together what happened with this slave ship. This book is so intriguing to me because I kept turning pages quickly as if I was walking right beside Cottman to find the clues. That's great writing. I also appreciate how he shared his feelings about what he learned. It was a very emotional task that had him wondering about the mind-set of people who profited from the buying and selling of human beings. One other engaging facet of
Shackles From the Deep
was the people that you meet. Joseph Ndiaye, curator of the House of Slaves on Senegal's Goree Island, gave a touching tour of the building to Cottman and to his readers. There are many other compelling people, like Mr. Ndiaye, for us to encounter.
This is one of the most fascinating history lessons you will ever learn. It takes you well beyond the retelling of facts like the best nonfiction books do. This is a story that all students need to hear.