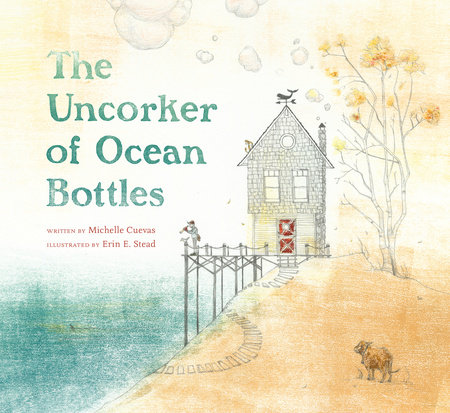 The Uncorker of Ocean Bottles
written by Michelle Cuevas; illustrated by Erin E. Stead
2016 (Dial Books for Young Readers)
Source: Orange County Public Library
He had a job of the utmost importance. It was his task to open any bottles found at sea and make sure they were delivered.
He doesn't have a name, but he has an important job. Watching the waves, he looks for bottles with messages.
Kind of like Sting
, only quieter and not quite as handsome. Regardless of weather or distance, the man delivers the notes. The messages can be old,
like crunchy leaves in the fall
. They can also be
written by a quill dipped in sadness
. Mostly though, the dispatches hold
the treasure of a clam-hugged pearl
. As you have noticed, the language of this story is gorgeous (even more than Sting). But loneliness,
as sharp as fish scales
, envelopes the man. He would like to receive a message, but it never happens. He figures his chances are about as good as
finding a mermaid's toenail on the beach
. The waves decide to tell a different tale. A bottle arrives with a mysterious message. Not addressed to anyone, it is an invitation to a party on the seashore. Being diligent in his work and very curious, the Uncorker goes to town to find out who the message is for. He asks the cake maker, the candy shop owner, a woman, and a young girl. None of them know. Each of them, like the man, wishes they had received the invitation. Neither a seagull, a sailor, or the one-man band knows either. Not able to deliver the note, the Uncorker decides to meet the sender of the message and explain his dilemma. Coming to the seashore the next day, he meets a surprising lot. All of the people who he had asked about the bottle before, with a party set up for him.
The words and illustrations in
The Uncorker of Ocean Bottles
are beautiful. You see the text examples above. These illustrations match them with a sparseness that pulls you into the Uncorker's loneliness. As for the classroom, this is a text that I would use for teaching word usage in a Writing Workshop mini-lesson. It would also be a terrific starting point for a discussion about being a friend in the classroom. This book inspires me to do better at connecting with others.