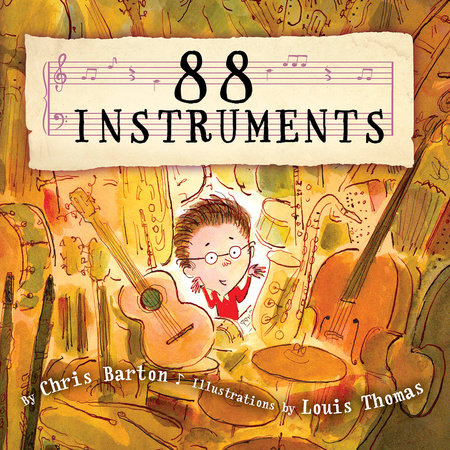 88 Instruments
written by Chris Barton; illustrated by Louis Thomas
2016 (Alfred A. Knopf)
Source: Orange County Public Library
How am I supposed to pick just one?
Gazing into a music shop, a young boy counts 88 instruments. Mom and Dad tell him to pick one for now. Similar to getting a taste spoon at an ice cream shop, the boy tries out several instruments while unleashing a string of adjectives to describe each one. The accordion seems to be the
squeeziest
. Blow into bagpipes and you'll get the
wheeziest
. After finishing with the
rowdiest
, an electric guitar, he walks over to a piano. Like Goldilocks with Baby Bear's porridge, this instrument is just right. Initially overwhelmed by 88 keys, he rolls up his sleeves and takes on the keys one at a time. This is music to his parents' ears.
There are several applications that I can see making with
88 Instruments
. Do you incorporate choice boards in your classroom? This would be a good book to read while you discuss how to make choices. Think about choosing books in your classroom library. I appreciate that the parents allow him plenty of room to find his muse. Incorporating literacy in a music classroom? I have just the book for you. And the adjectives!
88 Instruments
has them like sprinkles on a doughnut. This will spruce up a writing mini-lesson. Finally, I love how the boy sees the piano as a challenge instead of something insurmountable.
88 Instruments
will be a harmonious read-aloud in your classroom.