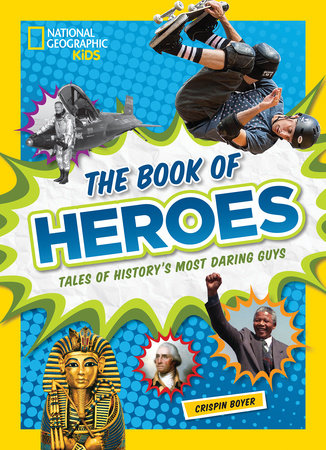 The Book of Heroes
written by Crispin Boyer
2016 (National Geographic Kids)
Source: Review copy provided by the publisher
Cancer can take away all of my physical abilities. It cannot touch my mind, it cannot touch my heart, and it cannot touch my soul. And those three things are going to carry on forever. - Jim Valvano
Look! Up on the shelf! It's a hall of fame. It's a catalog of bravery. It's both and more! Welcome my friends to a show of courage that never ends. We have heroes of action and heroes of peace. We have young and old, famous and unknown, human and nonhuman heroes. In fact, it is the mix of figures that is one of the most appealing features of this book. For example, we have famous heroes from the world of sports like Jackie Robinson, Jesse Owens, and Michael Jordan. But do you remember or know of Terry Fox? Unless you're Canadian, you probably are unaware of this superhero who ran 3,339 miles despite having lost one leg to bone cancer. He was not able to complete his run across Canada due to the return of the cancer and was just 22 years old when he died. But cancer could not touch how he inspired a nation. His Marathon of Hope continues to motivate to the tune of $650 million donated to fight cancer. The Book of Heroes draws from beyond the sports world. Scientists like the doctors who fought the Ebola virus and Lawrence Patrick, who gathered data on car crashes by experiencing them first hand, are also here. Taking on these injuries helped him create designs that prevented harm for others. There's even a section on fearless animals who saved lives. Each of the eight chapters ends with a
Moment of Bravery
which dedicates a two page spread to a heroic deed. At the end of Chapter 4,
Heroes for Hire
, we learn about Takeshi Miura and Miki Endo who worked in the Disaster Control Center in their Japanese fishing village. They both kept to their posts, alerting citizens of the coming tsunami generated by a massive earthquake in 2011. Thousands were spared as these two heroes gave their lives for others.
There are so many great stories in this book. I love the wide range of people that are highlighted in these vignettes. We talk about wanting role models for our children, and here they are in bold photographs and paintings. If your class has a biography unit, this would be the perfect book to share as a nonfiction read-aloud or to supplement a wax museum project. You can introduce a new generation to previously known and unknown heroes and perhaps inspire readers to become one themselves.