Right now, our students are deep into character study, so I thought I would put together a few anchor charts that can help guide instruction. The first thing you want to tackle is the traits vs. emotions issue. I like how
Scholastic blogger/teacher Genia Connell
approaches this:
I begin by differentiating between character traits and emotions. I tell my students that a character trait is the way a person or a character in a book acts: it's a part of their personality and it comes from inside. Emotions are usually fleeting feelings that may be due to an outside force, such as good news.
Lessons on character traits are truly lessons on the comprehension skill of inferencing. Rarely does an author come out and say a character is jovial or bossy; instead, the reader must discover it by analyzing a character's actions and dialogue. It takes several days before my 3rd graders are able to effectively use text evidence to make their own inferences about a character.
What this says to me as a K-2 teacher is that learning about character is a time to roll up your sleeves because having these young readers working on inferring is hard work. Worthwhile work, but hard.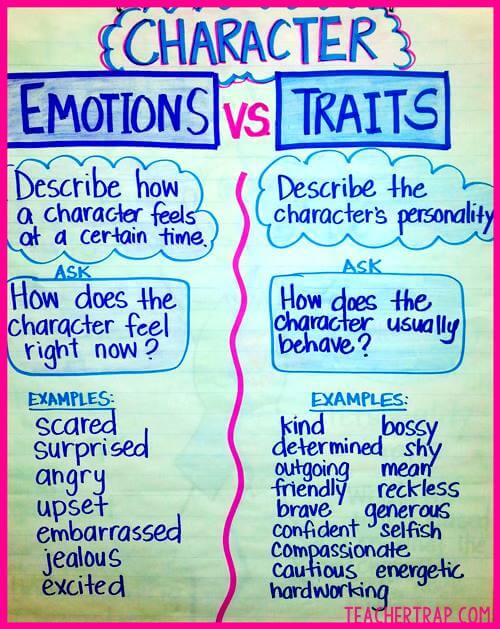 I like this anchor chart from Teacher Trap since it explicitly talks about emotions vs. traits. I especially like the ask boxes.
Here's another chart that does a great job of talking about the difference between feelings and traits. How great would this be for Writing Workshop too? The chart comes from
Julie Ballew
.
I like this chart for its exhortation to look for evidence. I couldn't find the origin of the chart as I was unsuccessful in the rabbit hole known as Pinterest.