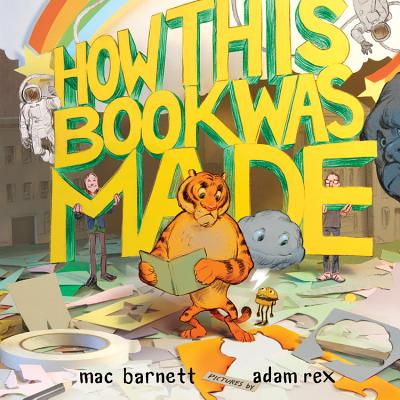 How This Book Was Made
written by Mac Barnett; illustrated by Adam Rex
2016 (Hyperion Books)
Source: Review copy provided by the publisher
The first draft of this book was not so good. Neither was the second draft. Or the third. Or the twelfth.
Even though I haven't met them, I've decided that I hate Mac Barnett and Adam Rex. Having seen my first three books published this year, I was all set to talk about MY books during my upcoming first author visit. Scratch that. Instead, this book will be the feature presentation. It's clever, funny, and a brilliant way to demonstrate how the writing and publishing processes work. Barnett starts off by explaining that books begin with an idea and these ideas come at the strangest times. Such as when you are arm wrestling a tiger in the jungle. That's the M.O. of this book. Truths about the writing life are placed within hilarious situations such as when Barnett is sitting on a bare mountain trying to write drafts with no success. Fortunately, the mounds of drafts can be used to scare away the tiger bent on revenge. Encounters with his editor and with illustrator Adam Rex follow a similar vein. The editor is shown wearing a tiara and eating a fancy lunch. Dotted lines across several enlarged maps bring to life the back and forth between a writer and an editor. Having won his battle with the editor, Barnett's words are sent to Rex, the illustrator. Let's just say that the illustrator is a little lethargic. Next, the words and pictures are sent to be printed. In a humorous way, author and illustrator show that the shortest path is not always the one taken. Now here's the kicker. After all the humor of this book, the last page reveals a beautiful and unexpected truth about books. That's why these guys are celebrated and deservedly so. They are not only funny, but also smart and able to hit exactly the right note at the right time.
With Writer's Workshops starting all over the country this week, this is a great way to start it. It would be fun to have triads play the parts of Barnett, Rex, and the editor with their writing. If you have an author visit scheduled, this is also the perfect piece to share. How was this book made? With equal parts brains, humor, and heart.