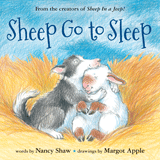 Sheep Go to Sleep
written by Nancy Shaw; illustrated by Margot Apple
2015 (Houghton Mifflin Harcourt)
Source: Orange County Public Library
Nighttime noises scare the sheep. Really, who could go to sleep?
It's nighty-night time for the
five sheep from jeep fame
. Problem is there is too much noise for snoozing. Owls and crickets make it hard to get any rest. Fortunately, the perfect nanny, in the form of a collie, comes a-calling. Sheep #1 gets a snug hug and soon starts snoring. Sheep #2 wants a drink so water is fetched. Two down, three to go. A lullaby creates the right atmosphere for the next sheep to fall into La-La Land. What's better than a stuffed friend to help you feel sleepy? Sheep #4 is provided with a teddy bear and then there was one. The last sheep receives a cozy quilt and soon all is well.
The sound I hear right now is ka-ching because toddler parents will want to buy this book for nighttime reading. It's way past 10 on the cute meter, there's great rhyming action, adorable illustrations abound, and it's not that long which is great if you need to hurry to catch the second half of the game after having nighttime duties. This is definitely in the buy two category because the first one will be worn out quickly. It's also available in a board book which makes for great gnawing.