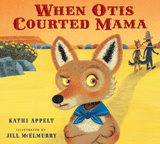 When Otis Courted Mama
written by Kathi Appelt; illustrated by Jill McElmurry
2015 (HMH Books for Young Readers)
Source: Review copy provided by the publisher
Life was going pretty well for a coyote named Cardell. He had a father who was an expert jalapeno flapjack flipper, a Zig-the-Zag speedster through the desert, and could howl perfectly at the moon. His mother was no slacker either. She was terrific at hunting small game but also showed her sensitive side with beautiful paintings of sunrises and sunsets. Other than a few sticker burs and some sand fleas, Cardell's only other problem was that his parents did not live together. This didn't really bother him because Cardell liked Papa's new family and he had his mother all to himself . Sure she had a few suitors, but they fell by the wayside pretty easily. Then neighbor Otis arrived. He wasn't like the discarded suitors, but he wasn't nearly as good as Papa either. Cardell put a healthy "GRRR" in his voice to let Otis know he wasn't interested. Funny thing was Mama seemed to like Otis. He did make a tasty prickle pear pudding and was an amazing pouncer. One night, Otis entertained Cardell and Mama so much with funny stories that Cardell's animosity melted away. Maybe he was the one for Mama.
It takes a mighty deft touch to write an entertaining and sweet story about divorce, but it's not surprising that Kathi Appelt pulls this off. She's one of the best storytellers in children's literature. That's not my back medicine talking either. Search her name and you'll see she is well thought of by people who read children's books. With so few books specifically about a blended family,
When Otis Courted Mama
is a welcomed resource. It's not preachy, but instead funny and endearing. There's no drama befitting a reality show in this book. It's just a plain ol' good story that young readers will enjoy. As for the illustrations, my wife walked by a few minutes ago and said "Those are pretty." She doesn't comment often on the books that I write about so that's high praise indeed. Jill McElmurry's color choices bounce off the page like Otis pouncing on a chuckwalla. We're not even two weeks into the new year and we already have a picture book that will turn many heads.
Click on this
link
to find a curriculum guide for
When Otis Courted Mama
.