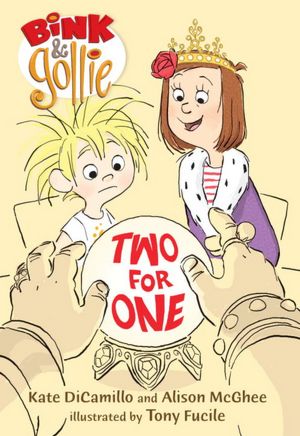 Bink and Gollie: Two for One
written by Kate DiCamillo and Alison McGhee; illustrated by Tony Fucile
2012 (Candlewick Press)
Source:
Mebane Public Library
It's not often when a sequel is as good or better than the first in a series. Here comes an exception.
Bink and Gollie: Two for One
is funny, sweet, and so so smart. In this set of three stories, the best friends head for the state fair. The first story,
Whack a Duck
, has Bink trying to throw a baseball at rows of ducks in order to win the world's largest donut. It doesn't go well. Bink's innocence is the perfect partner to Gollie's droll comments that made me laugh out loud. Tony Fucile's illustrations are so expressive, they could carry the story on their own. If you have ever lost at an amusement park game, this story will make you feel better.
You're Special, Aren't You?
, the second story, has Gollie endeavoring to participate in a talent show at the fair. The best friends are the ones who stick with us when life doesn't go as planned. Bink is such a friend. The ending scene involving cows and poetry is a touching one. Fucile's illustrations perfectly capture the fear and loneliness of being on stage.
Two for One
wraps up with
Without a Question
. Bink is interested in finding something to ride while Gollie is bent on meeting destiny. Off the beaten path is Madame Prunely who "tells all" while gazing into her crystal ball. What the two friends learn is what they already know, and that is all that is needed.
Early readers will love the physical humor in
Two for One
. There are also great lessons on friendship and kindness in these stories. As a teacher, I could use this book to teach a lesson on using dialogue in your writing and another one on how illustrations are a vital part of telling a story.