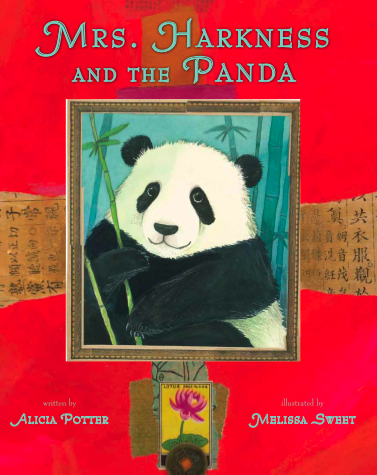 Mrs. Harkness and the Panda
written by Alicia Potter; illustrated by Melissa Sweet
2012 (Alfred A. Knopf)
Source:
Orange County Public Library
Check out Nonfiction Monday at
Ms.Yingling Reads
In 1934, William Harkness went to China to find a panda bear to bring back to the United States. Unfortunately, he died of throat cancer while there and was unable to complete his mission. Powered by her love of her late husband, Ruth Harkness took on his cause. Her friends thought she had lost her mind. She did not fit the physical profile of an explorer, but her heart convinced her that she had to try. When she arrived in Shanghai, more skepticism from her husband's friends awaited. Undaunted, Ruth found an energetic young man named Yang Di Lan who also went by the English name of Quentin Young. He knew the area where she needed to go and helped her get outfitted for the journey. It was a rough journey up rugged mountains, but Ruth and Quentin stayed the course. Nearly a month and a half after setting out on their quest, the duo had little luck in finding a panda. Being wet and cold was no picnic and Ruth was dismayed. Mired in frustration but still searching, Quentin found what they were looking for in an old dead tree. Taking the baby panda back to camp, Ruth found the bottle she had packed and fed Su Lin. Soon after, the panda and Ruth arrived in America to great fanfare from the press and public. Su Lin was placed at a zoo outside of Chicago and Ruth went back to her new home of China.
Mrs. Harkness and the Panda
is a beautifully illustrated picture book biography of an interesting and unexpected explorer. The mixture of watercolors and collage items by Melissa Sweet is wonderful. To author Alicia Sweet's credit, she doesn't avoid what readers will inevitably question which is why we should celebrate a person who took a panda bear away from China. Sweet explains in the author's note that the world was a different place in the 1930s and people had different attitudes and knowledge of animal conservation. This is an important history lesson for students who need to learn to think like those who lived in a particular time period instead of imposing 2012 sensibilities. Sweet goes on to further explain that Harkness changed many attitudes towards pandas and brought much needed publicity to an animal that was being hunted for sport. The attention of the public and scientists may have helped the panda from becoming extinct. Tony Stead's
Should There Be Zoos?
would be a great companion piece to this interesting and thought provoking biography.