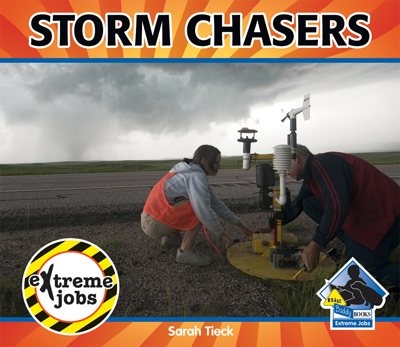 Extreme Jobs: Storm Chasers
written by Sarah Tieck
2011 (Abdo Publishing)
Source:
Orange County Public Library
Check out STEM Friday at
Booktalking
Storm chasing is a risky (some would say insane) business, but the data collected is extremely valuable in trying to understand how hurricanes and tornadoes are formed and how they function.
Storm Chasers
gives readers an up close look at the life of these meteorologists who chase tornadoes and fly into hurricanes. One of the interesting aspects of this book is the time that is spent researching and planning. Chasing tornadoes or hurricanes involves a lot of time reviewing data and trying to predict what is going to happen with a particular storm. This is an excellent lesson for young science students. I work with 5th graders on being able to read weather data and develop a forecast based on that day's numbers.
Storm Chasers
shows students that you have to be able to make observations using the latest technology and your background knowledge. After the two sections on tornadoes and hurricanes, a feature on two historical figures, Benjamin Franklin and John Muir, and their experience with weather observation closes out the book.
Chasing storms certainly has its thrills, but before you can track down a tornado or penetrate the eye of a hurricane in a plane, you have to use reading and math skills to prepare you for the chase. If you have a unit on careers or weather, you can use pieces of this book as a read aloud. A comparison of different time eras and their technology for predicting weather could be an activity you could use in conjunction with
Storm Chasers
.