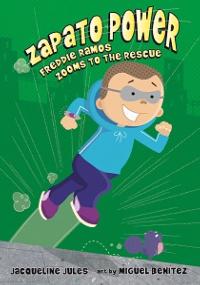 Zapato Power: Freddie Ramos Zooms to the Rescue
written by
Jacqueline Jules
: illustrated by Miguel Benitez
(Albert Whitman) 2011
Source: Review copy provided by the publisher
Young super hero Freddie Ramos is back in his third book with more adventures involving his high powered
zapatos
(shoes). This time, a thunderstorm leaves trees weakened in Freddie's neighborhood and one of them falls on the school gym roof. As the class examines the tree through their window, a purple squirrel appears on the ledge. It's up to Freddie and his super speed to solve the mystery of the grape tree dweller. In the process, Freddie will also find out who sent him the cool silver goggles and perform his most heroic deed ever.
Freddie Ramos is an extremely likable character without being overly sweet. He tries to do good things with his super power, listens to his mother, and is curious about how stuff works. Freddie's father died serving his country, but he lives on in Freddie's memory. Uncle Jorge asks Freddie to keep his hair short like a soldier which is an indication of the pull of this memory. Freddie has a positive network of family and neighbors who help him along the way, which serves as a nice model for young readers. I also like how Freddie sometimes struggles with decisions which humanizes him and will help students make connections. The text level will make this an ideal choice for early readers and reluctant readers who want a chapter book in their hands. Find copies of all the Zapato Power books so your students can continue reading about Freddie's adventures.
Here is a
link
to an activity guide for the Zapato Power series.