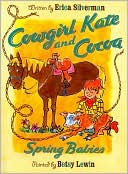 Cowgirl Kate and Cocoa: Spring Babies
written by
Erica Silverman
; illustrated by
Betsy Lewin
(Harcourt Children's Books) 2010
Source:
May Memorial Library
In this series of spring stories, Cowgirl Kate and her horse Cocoa encounter new animals on the ranch. The first story has involves a calf being born in the middle of the night and how it brings out some motherly tendencies in a grouchy Cocoa. In the next story, Kate's friend brings a new puppy instead the peppermint that Cocoa was hoping for, but somehow Cocoa finds a way to befriend the dog. For the last story, a mysterious "ghostly" noise in the barn spooks Cocoa and Peppermint into thinking that something other-worldly is paying a visit. On the contrary they find an earthly surprise in the loft.
Spring Babies
is the final book in an outstanding early reader series. Cowgirl Kate and especially Cocoa are such engaging characters with a nice mix of sweetness and humor. Erica Silverman is able to write stories that are just the right length for younger readers, but still tell a complete tale. If you wanted to teach beginning, middle, and end, the Cowgirl Kate and Cocoa series would be marvelous texts to use. Happy trails Kate and Cocoa! Click below for a book trailer.